ITA
Tutti i miei prodotti della "serie velluto"sono realizzati in
Caratteristiche: tessuto corposo e ricco, particolarmente piacevole al tatto. La viscosa nasce nei primi anni del 1900 dall'esigenza di trovare una fibra morbida e lucente come la seta, ma più accessibile. Si tratta di una fibra artificiale estratta dalla cellulosa vegetale che emula le proprietà della seta, per questo nasce con il nome di "seta vegetale".
DI SETA è il filato con cui si producono i velluti più pregiati, perché in grado di conferire loro una superficie brillante e perché crea drappeggi molto morbidi;
DI LINO il velluto assume invece un aspetto più opaco. Questa fibra ha però il vantaggio di assorbire molto bene la tintura, quindi i colori del tessuto appaiono più intensi;
DI COTONE conferisce al velluto una brillantezza più contenuta, ma ha il pregio di essere molto resistente e di creare pieghe morbide. Il pelo, però, è più corto rispetto al velluto di Seta o di Viscosa;
SINTETICO, come poliestere e nylon, danno al velluto un aspetto molto lucido, ma le sue pieghe non risultano morbide e il tessuto è piuttosto pesante. 
Grazie per la lettura
"Monetiere" , Cofanetto , Astuccio per monete Velluto Italiano
ENG.
All my "velvet series" products are made of
Features:
full-bodied and rich fabric, particularly pleasant to the touch.
Viscose was born in the early 1900s from the need to find a soft and shiny fiber like silk, but more accessible. It is an artificial fiber extracted from vegetable cellulose that emulates the properties of silk, which is why it was born with the name of "vegetable silk".
DI SETA is the yarn with which the finest velvets are produced, because it is able to give them a shiny surface and because it creates very soft drapes;
DI LINO velvet takes on a more opaque aspect. However, this fiber has the advantage of absorbing the dye very well, so the colors of the fabric appear more intense;
OF COTTON gives the velvet a more contained brilliance, but has the advantage of being very resistant and creating soft folds. The pile, however, is shorter than silk or viscose velvet;
SYNTHETIC, like polyester and nylon, give velvet a very shiny look, but its folds are not soft and the fabric is quite heavy.
Thanks for reading
"Coin cabinet" Casket Coin case Velluto Italiano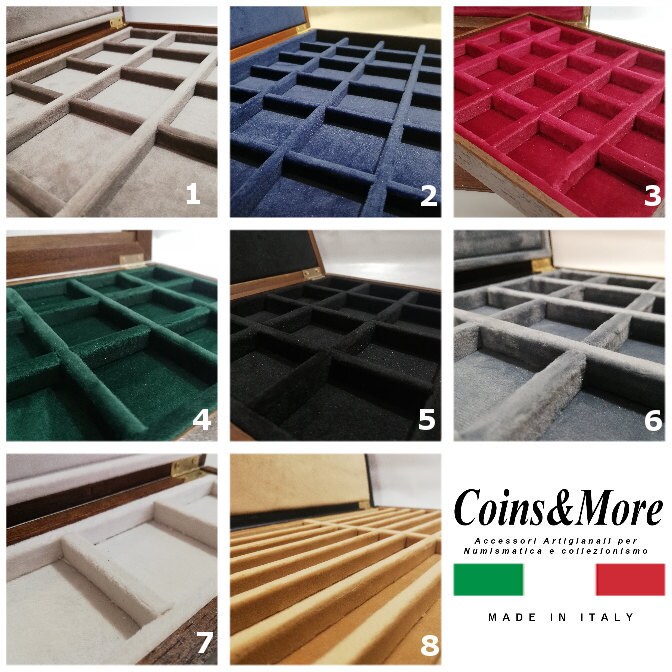 Seguici su Facebook Coins&More